You wake up and feel awful and remember that today you cannot go to work. It's terrifying to tell your boss you can't get to work while your office has a strict leave policy. You don't want your boss to think you are falling asleep, or you do not want to make the conversation awkward. You must know how to write a proper sick leave email so that you can get the leave without any hassle. In this article, we have jotted down some great tips that you can follow to write a sick leave letter and get yourself a rest for a day or two. So read the article, to find out.
Tips for Writing Sick Leave Email
Herr are the best tips to write a sick leave application email:
1. Follow the Protocols of the Company
Follow the absence policy in your employer's manual or use the preferred mode of contact with your boss. This means that for some people, you have to remind your boss at least two hours before your changeover. Instead of sending a sick leave email or text, you might need to contact some businesses.
You will also have to tell your colleagues and customers that you are out. For leaves that last for more than three days, some employers need a doctor's note. However, even though you're just absent for one day, there are strict companies where the doctor's note needs to be given. Ask your boss or review your employment contract if you are uncertain if your employer needs doctor's notes or not.
2. Send the Sick Leave Letter Early
Send the sick leave email as soon as you know that you will not be able to make it to the work. Sudden disease and emergency room visits will make your thoughts work out. However, it is your responsibility to inform your company manager about your issues. You should not keep them clueless about your location.
3. Things to be Included in the Sick Letter
Your sick leave email should be straightforward and succinct. This is a rundown of what you need while writing a sick leave letter: Reason for the absence: Keep this section simple without too much detail. Write down the particular disease and the key signs you can not get to the office. It's not the place where you have to jot down everything.
The number of days you want a leave: For several diseases like grippe or cold, the worst is over within one to two days. This is predictive. Ask your doctor how much time it will take you to heal if you are not sure when you will go back.
Address about your communication medium: Inform your boss if you should respond by email to questions. If they have to contact you, you can also have an emergency phone number. If you are too sick to answer emails, be frank and make clear that during your absence, you will be unreachable. Tell if you can work or not: This refers to telecommuting, remote or senior staff who can continue to work even during leisure time.
If you have infectious conditions but not too ill for full bed rest, your supervisor can authorize you to the telephone. Attach the doctor's note and other necessary documents: Please mention any medical note, prescription or certificate you may have to back up with your sick leave email.
4. Name the Point Person
Mention who is responsible for the current assignments and meetings, so your boss can know who will deal with your activities.
5. Professional Closing for the Sick Leave Email
Enjoy a quick closing with your signature and end your sick leave email. You may also send a brief email to your team that does not provide any specifics about your condition or your physician warning.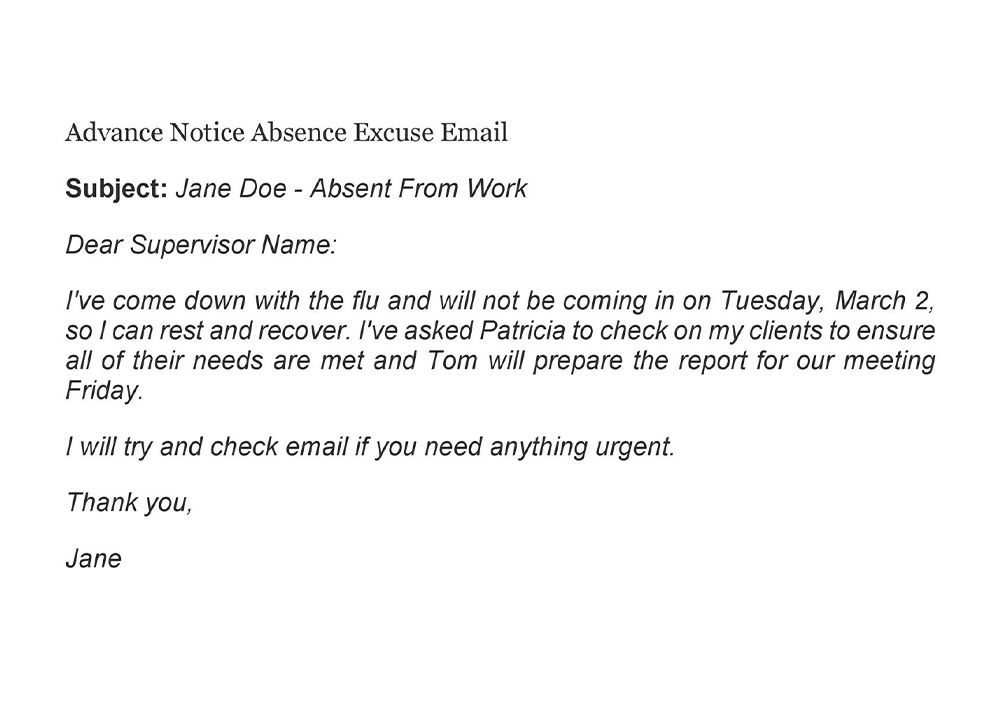 Points to Remember
1. Plan Ahead
Although your boss cares for you well, overall, most managers are very focused on consistency, productivity and customer service. If your absence would disrupt any of these sectors, you want to make sure that you have thought about it, so you can prepare for them and leave the boss happy with your plan.
2. For Longer-Term Sick Leave, Contact the Company HR
You would like to contact HR to clarify the mechanism of your business in the first place when you send sick leave emails requesting a longer-term sickness leave of five or more days. Take the initiative to find out whether any payment or unpaid leave rules, for example, unpaid FMLA leave, protect your leave.
Your HR department will also help you figure out whether you fulfil the requirements for any leave and whether you are willing to provide for sickness, holidays or personal time to compensate for unpaid periods. Once you know the basics, email and start a request to your boss (and cc HR on the email so they can begin the process and the paperwork).
3. Carefully Plan your Long Term Sick Leave
Given any time restrictions and health constraints you are facing, a long-term disease leave should be prepared as carefully as you can while taking a short leave. Your employer would want to know how long your doctor feels you should spend time doing some job and the intention to do it in your absence.
Even if you don't have a complete plan, prove that at least before beginning the request, you have thought about certain things. Your chance of a good rest day depends on your boss. Employees should be responsible for contacting them on a sick day at the earliest opportunity. It is possible to replace and reschedule meetings until the time when you are expected to be at the workplace.
4. Keep your Sick Letter Simple and Short
If one of the team members is sick, we trust them to know the facts. Keep your message short and clear. No one wants to know your particular disease in-depth, and it is not suitable to share it.
Final Words
So now, you must be clear about how to write a sick leave email and get your leave approved. Always remember that when writing a sick leave letter, always be polite and give the correct information about the reason for leaving this will help you get the leave easily.