When the change in your industry or economy (or both) means that your business needs to move quickly, how can you perform the new role? You can retrain your current employees to assume these new roles when your organization lays the foundation for reskilling. In times of major change, that can help your firm be viable without the extra time and expenses of hiring brand new staff.
Reskilling is a way of saving your company time and money when you have new skills to need. It can help you maintain your business talents, attract motivated candidates, and support your whole organization for expertise and innovation. In this article, we will discuss what is Reskilling and the importance of reskilling. So read and find out.
What is reskilling?
The definition varies from source to source, but in general, rescue takes place when you help your employees learn the skills that they need to play a new role in your company. For instance, a retailer could qualify its in-store sellers to function as remote customer service agents so that they can change focus from brick & mortar to e-commerce sales.
A reskilling subset called upskilling may help your people prepare for major changes. The retailer who puts more resources into e-commerce, for example, may enhance training in information analysis to improve the planning of inventories, logistics, and digital marketing performance in certain managers.
Importance of reskilling
You can save time and money in the short term if you re-skill or enhance your people to take on new tasks or roles. You can also build a stronger brand of employers, a deeper talent base, and a long-term source of innovation. Let's check out some of the great importance of reskilling.
Reduce new role filling cost
Even before you get on board, it's costly and time-consuming to recruit, interview, vet, and hire new people. And there is always a chance that even with a solid recruitment process, recruitment might not work out. You avoid costs and the long time frame of recruitment and embarking on a new person when you retrain your current employees. This frees your resources to help you quickly achieve your next role in your company with your existing people.
Help you draw new talent
A company that helps its employees to develop new skills has an advantage in recruitment. Candidates who want to be valued at work often seek employers with a professional growth culture which includes opportunities to restructure and develop skills. Besides, the benefit of continuous training and development is usually shared by employees with others with enthusiasm. A resilience culture can therefore strengthen your employer brand and bring in more people who are motivated to continue to learn and grow.
Help retain the best talent of the organization
In the life story of Dorothy Vaughan, depicted in the film "Hidden Figures," there is an excellent example of the advantages of reskilling. She managed a group of women mathematicians who were working on the "human computer" of the US space program in the 1950s. When she found out that NASA had purchased a new IBM computer that could replace her team, she got a library book called FORTRAN, a library about the programming language of IBM, and her team taught herself.
She saved her jobs by reskilling herself and her staff. She subsequently became an expert programmer and worked in NASA's Scout Launch Vehicle Programs until her retirement. The story of Dorothy Vaughan is inspiring, but if she had not been inspired to rescue herself, it couldn't have happened. Think of how talent, expertise, and innovation organizations can help their employees develop new skills and retain them when they are proactive.
The time required for reskilling
The amount of time it takes an employee to retrain from the big screen depends on the training and how much time the employee can take to train. The best scenario is that you see a need for new skills on the horizon and start training your employees early, so you are ready to adopt or practice the new technology.
The worst-case scenario is to stick to outmoded techniques or practices until you are obliged to adopt new ways of doing things without updating your employees' abilities. You might then need to recruit new people with the skills you need, and not all your current employees can be kept and trained. Think of reskilling as a continuous process instead of a short-term project to avoid this kind of crunch. As a manager or leader, it is easier for you to reskill by keeping an eye on the next roles that your company and industry need to fulfill.
How to build a reskilling program?
Like any program, the resilience of your company will be most effective if it is part of your culture. The first step, therefore, is to adopt a culture of learning. How can you do that? Consider setting up an annual program that you and your staff use for the development of skills and learning goals.
For instance, a team developer might be watching a new technology, but they don't think it's on the horizon. You may ask to include the knowledge of this technology in your annual growth plan. Your reskilling program will also need certain specific resources to help your employees achieve their learning goals.
Adopt a platform for skills improvement
If your business needs to have an Online training or certification platform, you can use this platform to help your people identify skill gaps and set learning targets for their existing or new roles. A platform can track the progress of employees towards their objectives. It also saves you time to gather the training resources that are necessary to quickly retrain several employees for new roles if you take a quick turn.
Focus on specific skill training
Even a complete platform may not have all the resources you need to rescue a particular effort. And you can have staff that wants training that is not on the menu of your platform. It makes sense to invest in other training courses for employees. For example, your skills platform may concentrate on your certified care assistants' clinical knowledge and certifications if your industry is senior care. However, you may need computer nursing resources to support its reskilling goals and innovative plans if you want to learn data analysis to improve the outcomes of your entire facility.
Encourage work shadowing
Many times, we think shadowing helps students or new hires to understand the true meaning of a particular role. However, shadowing can help restore and upgrade by at least two ways among current employees:
One team employee can shade another team to learn how they work. The employee can then share their findings with their current team, which helps to build the entire group.

An employee who would like to become a new role might want to shadow a colleague who is now doing this job. A quality assurance testing device that wants to be a developer, for example, can shadow a developer to see what skills are needed and how those skills are used.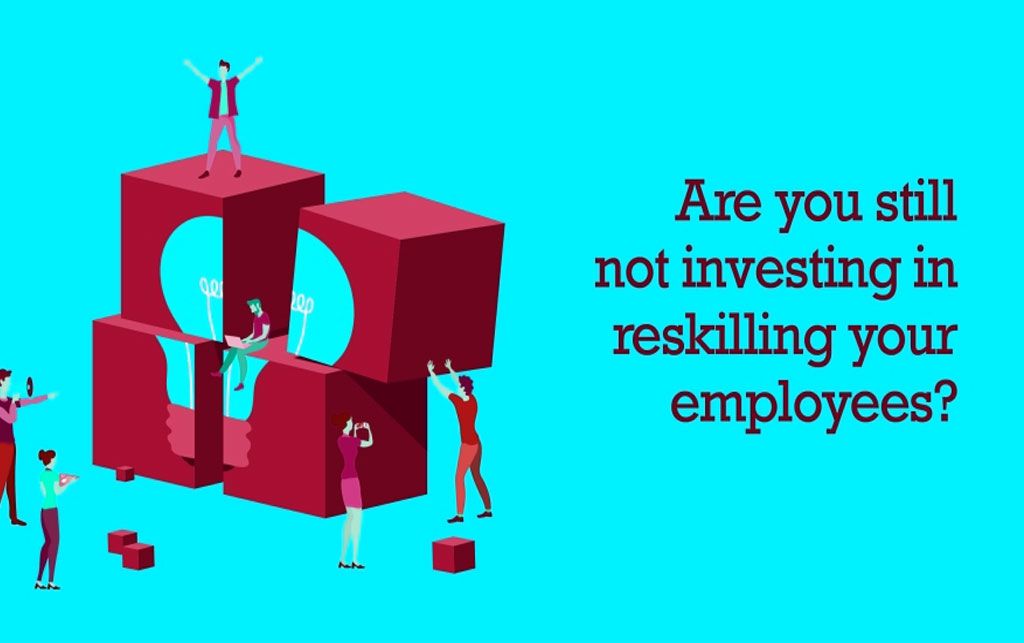 Help employees practice their expertise
Sometimes, employees have the knowledge and abilities they need to become new employees based on their work. For instance, a payroll expert who manages a number of your customer accounts can have insights that make it also valuable as a consultant for other customers. Bear in mind that either evolution must not be: stay in the current position or move to the new. To keep your knowledge and abilities up to date, the paid expert could consult while still maintaining a hand in payroll.
Final words
Reskilling is necessary if you want to keep your current and experienced employees working for your organization. As you read above about the importance of reskilling, you must implement it in your organization, and it is guaranteed that you will see growth in your business, and productivity will increase rapidly.